Tim Ho Wan and its History in the Michelin Guide
In the restaurant world, there is no higher recognition than the Michelin star. Chefs strive for their entire lifetime pursuing this ultimate acclaim. Only the very best restaurants, replicating their dishes consistently year after year, achieve this Olympian feat. It is with much honour that Tim Ho Wan's Hong Kong dim sum restaurant ranks as one of them.
Tim Ho Wan was started by Chef Mak Kwai Pui, formerly of the prestigious three Michelin starred Lung King Heen restaurant in Hong Kong's Four Seasons Hotel, alongside Chef Leung Fai Keung. In 2009, the two chefs joined forces to open their first 20-seater dim sum restaurant in Mongkok. A year later, they would earn their own one Michelin star. More restaurants opened, each earning its own Michelin star. The accolades for serving superb food at affordable prices soon followed. Indeed, Tim Ho Wan was once called the most affordable Michelin-starred restaurant in the
world!
Today, guests need not journey quite as far to enjoy the award-winning Hong Kong dim sum in a more modern setting.
---
The First Step, Tim Ho Wan Singapore
The humble 'hole-in-the-wall' eatery in Hong Kong started to bring its delicious and affordable, dim sum restaurant overseas, with its first international location in Singapore.
Tim Ho Wan's first international restaurant opened at Plaza Singapura in 2013. Replicating the same taste of its Hong Kong counterpart, it was an unbridled success. Its opening saw long lines at all hours and intense media attention. Tim Ho Wan quickly became a household name. With its combination of quality and affordability, Tim Ho Wan won over the taste buds of discerning and value-conscious Singaporeans to be the top dim sum restaurant in Singapore. More restaurants in Singapore opened over the years to cope with demand. Local devotees can savour the famed Baked Bun with BBQ pork – one of the dishes that gained Tim Ho Wan its success and international following.
With its successful overseas foray to Singapore and now-proven replication of its award-winning taste out of Hong Kong, Tim Ho Wan expanded into more countries. Our dim sum in Singapore continues to earn the plaudits of food critics and the hearts of epicureans well beyond Hong Kong.
Tim Ho Wan currently has more than 60+ restaurants worldwide.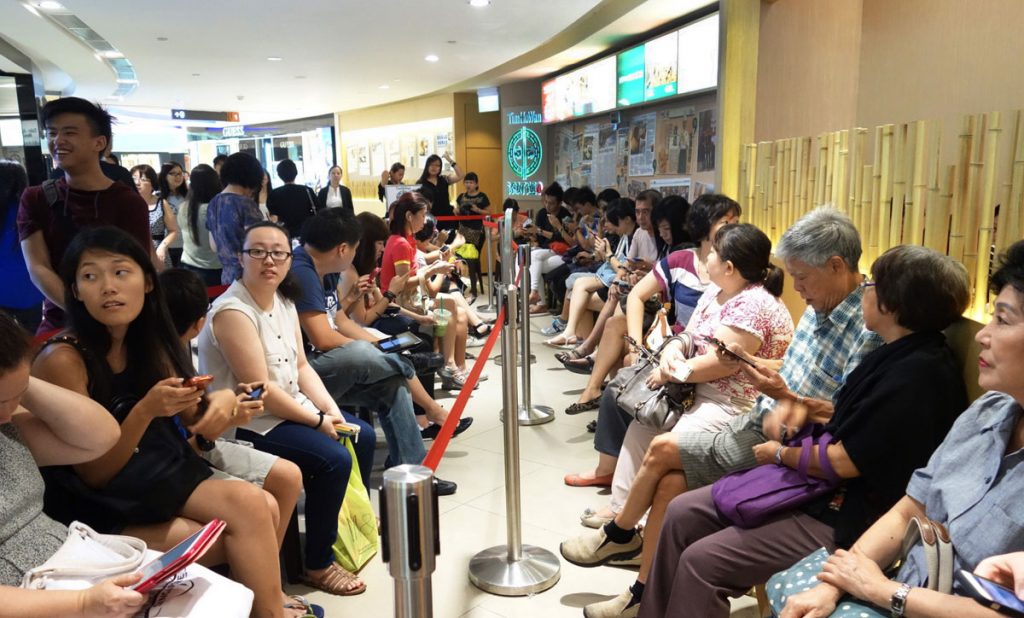 Dim Sum at Tim Ho Wan
The BBQ pork buns are enticing for its unique texture. Its exterior is crumbly and fluffy, while the inside is filled with barbecued pork and Tim Ho Wan's special sauce, imparting a sweet-salty contrasting taste. The BBQ pork bun is one of the all-time favourite and a dish not to be missed when dining in Tim Ho Wan. The other favourites include – Steamed Egg Cake, Bean-curd Skin with Pork & Shrimp, and Pan-Fried Carrot Cake.
The egg cake is light and spongy, with a nice caramelised taste that lingers on the tongue. The Bean-curd Skin with Pork & Shrimp is silky and wrapped thinly, the combination of pork and shrimp burst with flavours with every bite. Rounding out the line-up is the lightly pan-fried carrot cake. Other menu mainstays include the Steamed Chicken Feet with Black Bean Sauce, Steamed Pork Dumpling with Shrimp, and many more.
The dim sum that every Tim Ho Wan restaurant serves are made using only fresh and premium quality ingredients and cooked only upon order so as to retain its much-intended flavour and texture. The best value dim sum restaurant Singapore can offer!
---
At Tim Ho Wan, the Dim Sum Mastery is Clear
Precision is the rule of thumb for all chefs in the kitchen. Every detail is carefully and painstakingly scrutinized, from dish placement and service delivery, to specific sizing of every morsel and right down to the folds of the snowy skins for dumplings. This takes years of mastery to instil, and the consistency in taste across every Tim Ho Wan outlet is evident.
Tim Ho Wan strives for dim sum perfection. Come experience this for yourself, and let the food transcend your senses.